Printflood 300A on-line to HP7900
When equipped with a bridge unit with adjustable height, the ULTRA 300A can accommodate the HP 7X00 presses. Printed sheets are delivered directly into the coater, increasing overall productivity.
Furthermore, for near-line feeding, the bridge can be wheeled away and replaced by the standard ULTRA SF-300 Feeder with 200 mm paper capacity.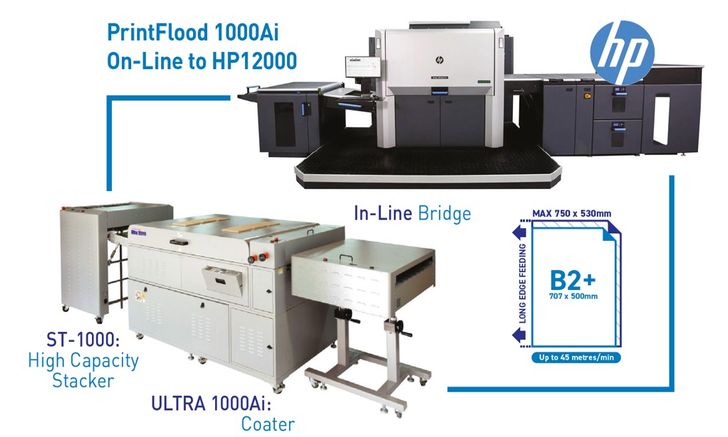 Printflood 1000A on-line to HP12000
The electronic interface provides bi-directional communication between the PrintFlood 1000A and the HP1X000 press.
B2+Format (Long Edge Feeding) will be run on-line, reducing machine downtime dramatically.
ON & OFF-LINE TO HP 7X00
UP TO B2+ SHORT EDGE FEEDING.
Non-stop production
Printing and coating in one single production line.
One pass, one operator
The press operator is in charge of the whole configuration.
Bi-directional communication with HP
Technology fully validated by HP Israel.
ON-LINE TO HP 1X000




UP TO B2+ LONG EDGE FEEDING
Reduce machine downtime
Improve overall workflow and production performance.
Unique auto-gap feature
The applicator and impression rollers engage only at the start and end of the sheet. They are never in contact with eachother, preventing indentations or flat spots on rollers or prints. This will leave the roller clean and coating free.
Cost effective vs lamination
Print providers should not ignore the eco-friendkiness of UV & AQ coating processes.
Interested in connecting our coater online to your digital press?
Online coating will dramatically improve your workflow, get in touch.