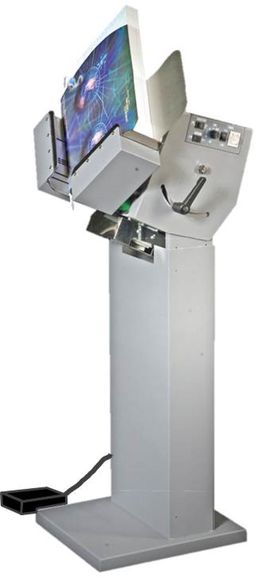 AirJogger UJ-600AS
An easy way to eliminate static
The perfect addition to any print shop! Jog uneven paper stacks with rapid speed and reduce static between the sheets before loading them into post press device. Jogging helps align the edges of the sheets prior to finishing, collating, binding and prevent errors such as miss ou double feeding. The UJ-600AS features a large air blower to efficiently reduce static along with adjustable air strength and volume. Help save time and make operators' job easier by quickly and efficiently squaring-up unorganized stacks of paper.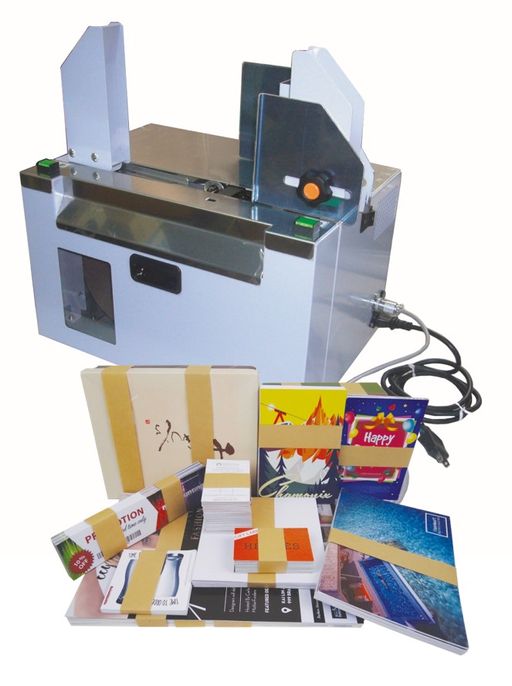 Docuband Up-240
Easy bundling
The space-saving table model DocuBand UP-240 wraps a strip of craft paper or film around the bundle, providing you with the same security but at a lower cost than a box or bag. The UP-240 can be placed near any machines for an efficient finishing and packaging operation. As soon as your pieces are finished and stacked, collect and place them directly on to the DocuBand. The sensor will detect the bundle and automatically wrap a band around it. It is ideal for printed matters such as business cards, greeting cards, boxes, etc... Mobile, handy and ready for immediate use: It's packaging made easy!
Help save time: jog your sheets!
UJ-600AS : trouble free paper handling.
Anti-static
Eliminate and kill static generated by machinery.
Strong air blowing
Adjustable blowing features with foot pedal.
Combination of anti static & air
Prevent static build-up before finishing. Highly appreciated by digital press operators.
Make your cards hold together
UP-240 : professional, secure, neat.
Strong band, adjustable
Adjustable & variable tension settings.
Craft paper or transparent tape
Temperature control ensure reliable welding.
Extra robust & quick
Select between manual or automatic mode.
Interested in finding out how little things can improve your overall workflow.
Let us prove to you how less static or easy banding are worth considering. Get in touch!