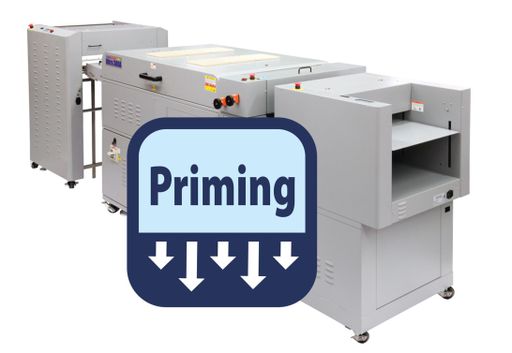 Priming Solutions
Improve ink receptivity
Digital press owners will be looking at the Priming solutions offered by the Ultra 100PRO, 300A and 1000A in order to optimize paper preparation. Priming will guarantee better ink transfer and adhesion onto paper substrates before printing on HP Indigo commercial digital presses.
PRIMING SPEEDS available on the PrintFlood AQ range:
13 metres/minute, 34 metres/minute & 45 metres/minute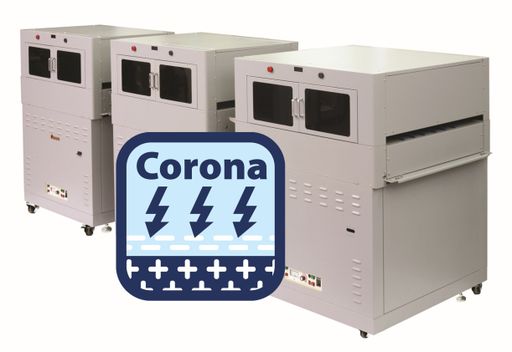 Corona Pre-treatment
With the dynemate range
The Ultra DM-100, 300, 1000 DyneMate range will guarantee high frequency discharge that increases the media surface energy necessary to obtain sufficient wetting and ink adhesion on specific plastic, metallic paper or PVC before printing.
SHEET WIDTH FORMATS available on the DyneMate range:
350 mm, 530 mm or 750 mm
Priming available on:
Ultra 100PRO/300A & 1000A
Generate more cash & bring priming in-house.
Makes paper compatible with HP Indigo
Improve paper adhesion properties before printing.

Water-based priming
Refresh Corona treatment might be recommended to achieve proper wet-out and adhesion.

Optimize a wide variety of substrates
Suitable for commercial prints, packaging & labels applications.

Corona treatment available on:
DM-100/300 & 1000
Optimize media wetting & adhesion.
High frequency discharge
Guarantee ink adhesion on difficult media substrates.

Adjustable dyne level
Reach up to 54 Dyne level (maximum).

Three different width, in-line or off-line
Choose between 350, 530 or 750 mm width formats.

Interested in our priming and corona solutions?
Struggling with ink adhesion? Do not hesitate to contact us.