Running speed: up to 45 metres / minute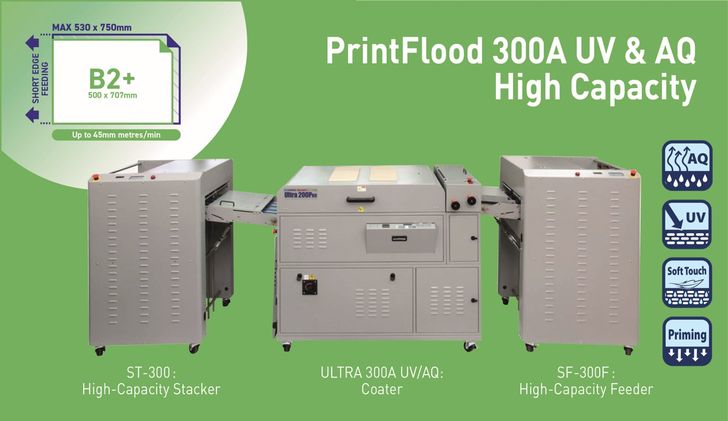 printflood 300A UV / AQ
B2+ Format (Short edge feeding)
Coating is an excellent way to make printed material stand out. The PrintFlood 300A UV/AQ coater provides a solution that enhances the value and vibrancy of printed pioces at high speeds (Up to 45m/min).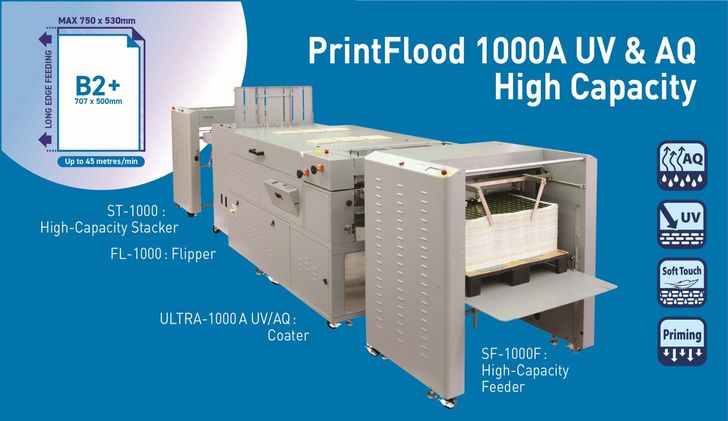 printflood 1000A UV / AQ
B2+ Format (long edge feeding)
Unique in its class, the PrintFlood 1000A UV/AQ will allow B2+ (Long Edge Feeding( formats to be run. This unusual format will be particularly interesting for the packaging market.
Running speed: from 13 to 34 metres / minute
printflood 100PRO UV / AQ
B3+ Format (Short edge feeding)
The PrintFlood 100PRO UV/AQ coater provides an excellent entry-level solution for digital printers willing to enter the coating market. It can run at a maximum speed of 13m/min.
printflood 200PRO UV
B2 Format (short edge feeding)
The most popular UV coater of the range, the PrintFlood 200Pro has been highly appreciated in the market for its ease of use, versatility and great value for money.
Easy. Unattended. Robust.
UV or AQ Coating. Made Simple.
Unique auto-gap feature
The applicator and impression rollers engage only at the start and end of the sheet. They are never in contact with eachother, preventing indentations or flat spots on rollers or prints. This will leave the roller clean and coating free.

Pre-heating system
The pre-heating feature lowers the viscosity of the varnish guaranteeing it is applied smoothly and more consistent throughout the sheet surface.

Intelligent high-pile pallet feeding & stacking
Designed to accept up to 750 mm paper height, operators will benefit from the use of standard pallets. Optional trolleys are also available.

Auto-Gap. Enhance. Protect
Full Surface. Upgradable
Make prints stand-out
Improve overall look and enhance print density.

Prevent scuffing
For printed media long-lasting durability.

Cost effective vs lamination
Print providers should not ignore the eco-friendliness of UV & AQ coating processes.

Interested in our UV & Aqueous solutions
Contact us and tell us how we can help your business.